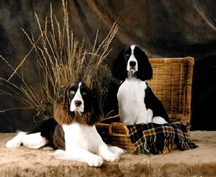 Gold Camp Kennels originated in Cripple Creek, Colorado in the 1960's. The original owners, Jay and Kathy Adams, chose the name Gold Camp because Cripple Creek was a mining town during the gold rush.
In 1975, I purchased my first springer from the Adams, named Prince Kiota of Gold Camp U.D. He was not a breed dog, but excelled in obedience, and became Gold Camp's first utility dog. When I decided to get another springer the Adams decided to get out of dogs, so they gave the Gold Camp name to me. My second springer, and the one I consider my foundation bitch, became Ch. Gold Camp Morningstar. She produced my first Top Ten springer (the first of many).
In 1981, I purchased Ch. Southwind's Magic Kira, C.D.X. Kira went on to be among the top ten springers in breed competition in both 1983 and 1984. I have produced over 20 champions to date with many more to finish. Kira was the first of many Jester springers to come to Gold Camp. Currently the majority of dogs at Gold Camp are either Jester or are a result of Jester/Gold Camp breeding. There are many more breedings planned.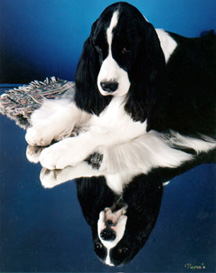 At Gold Camp I strive to produce a healthy, stable dog that can go into anyone's home and be a loving companion. Since the majority of the dogs I breed become family pets, as well as show dogs, temperament in my number one concern. That has been my goal and will continue to be as long as I breed these wonderful dogs.
---